Looking for an Ottawa renovation contractor you can trust?
Meet Renco, Ottawa homeowners' choice for trusted advice, quality work and service since 2002.
Home Exterior Additions
Increase the space, function and value of your home with an addition project.
Hiring the right Ottawa renovation company is easy
You schedule an appointment and deal directly with Renco owner Terry Fraser.
Renco Home Improvement is one of Ottawa's most trusted renovation contractors. For over 18 years, we have provided a full range of renovation and repair services, including basement waterproofing, foundation crack repair, exterior home additions, and basement renovations. Each of our projects is backed by a transferrable warranty signed-off by owner Terry Fraser, so you can feel comfortable with the quality of workmanship and materials.
Need a home repair?
Foundation cracks
Basement leaks
Exterior basement waterproofing
Mold & moisture damage
Basement windows
Finished basements
Inlaw suite renovation
Extend front entranceways
New bathroom installation
Exterior home additions
Explore examples of our recent projects
We take pride in all jobs, no matter how small or large, and each is backed by the Renco Home Warranty.
Foundation Repair (Crack Repair And Epoxy Injection
Thank you Terry. Your quick response to my request for an e-mail quote regarding a crack in my basement wall, that was leaking , was great. Your being available that same morning to do an on site inspection and provide me with an estimate for the(...)
Basement waterproofing and leak repair
Owner Terry was very patient and explained the entire process to waterproof the foundation of our historic 90yr old house which begun leaking in spring after the winter thaw.
Frequently asked questions
We meet with hundreds of Ottawa homeowners each year. Here are some of the most common questions they ask:
Do repair projects and new renovations come with a warranty?
Terry Fraser
2019-03-16T17:14:41+00:00
Yes, all projects are covered by Renco's transferable warranty program so you can be confident in your investment.
Plus if you sell your home the warranty is transferred to the next owner.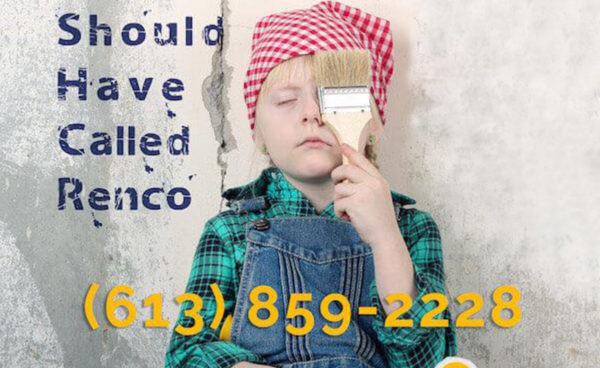 What's the next step?
Get a no-obligation estimate for your next home improvement project.
Getting started is simple: just call our Ottawa office today at (613) 859-2228. During first call we will set up a free appointment where you can get design ideas, cost estimates and timelines.
Get a job estimate today.
Planning a project? Fixing a repair? Get Renco to provide an in-person consultation today.
613-859-2228
Email Renco