Planning an Ottawa Bathroom Renovation?
You came to the right place. We have completed over 100 successful bathroom renovations for customers across Ottawa and can help you too. Keep reading to find out how.
Photo: Before and after Ottawa bathroom renovation
Ottawa Bathroom Renovation Services
We have experience with a full suite of bathroom renovation projects including:
Remodeling existing bathrooms
Powder rooms
Restoration of older bathrooms
Accessible bathrooms for seniors
Custom master ensuite bathrooms
Ventilation and lighting
Basement bathrooms
If you are planning a bathroom renovation project add us to your shortlist of contractors.  You will get a FREE one-on-one consultation with Renco owner Terry Fraser plus a fixed price estimate and timeframe.
Free bathroom project checklist
Starting a bathroom project does not have to be difficult. You can take the first step right now by downloading our free bathroom checklist. It includes all the items to think about before starting a bathroom project.
Plus the checklist can help your renovation contactor provide more accurate quotes and timelines.
Bathroom Renovation Ideas
Looking for some inspiration for your next bathroom project? The best place to start is Pinterest, signup (if you have not already) and start looking at examples, design ideas and types of bathroom renovations and remodels.
Check-out some recent bathroom renovation projects below, or view our favorite on Pinterest here: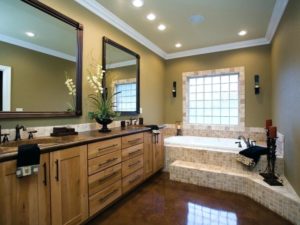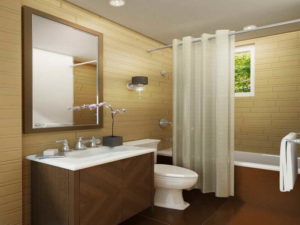 Bathroom Renovation Reviews
We take pride in every job, no matter how small or large. Our customer reviews, feedback and repeat work reflect this.
Hi Terry,
Yes we are enjoying new bathroom. As you know we were initially nervous and skeptical about hiring a contractor to work in the house. We were very pleased with the work done by all involved, particularly with Luke, Blair and Jeff, please pass along our gratitude. We believe they treated our home as though it was their own. Thank you to you as well for addressing any questions or concerns we had throughout the process.
My wife and I have had Terry and his crew do a couple of renovations on our home. We have been extremely pleased with the work. They are very professional, knowledgeable and pleasant to work with. Terry is also very quality-oriented. In our case, he uncovered issues with our home that needed to be rectified and fixed them the right way. We would be happy to recommend Renco.
Get a bathroom renovation estimate today.
Planning a project? Fixing a repair? Get Renco to provide an in-person consultation today.
613-859-9006
Email Renco